Connecting the Past to the Future - Visualizing and Mapping Textural Cadasters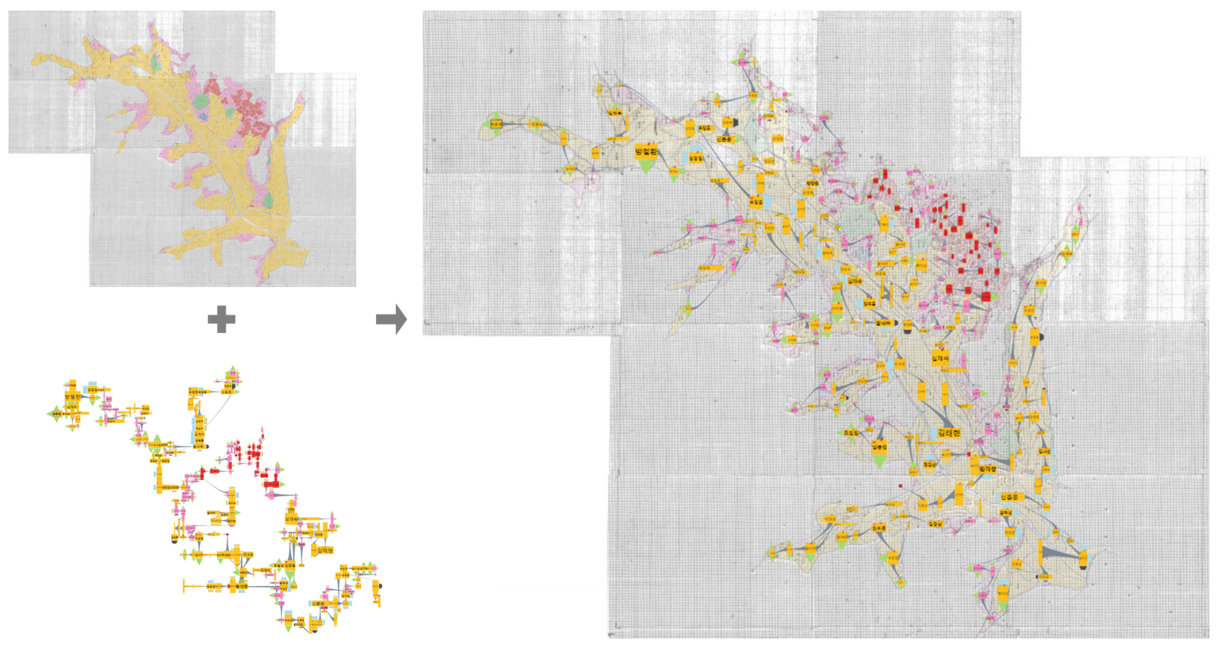 Participants
Hyungmin Lee, Department of Computer Science & Engineering, Seoul National University, Seoul, Republic of Korea
Sooyun Lee, Department of Computer Science & Engineering, Seoul National University, Seoul, Republic of Korea
Namwook Kim, LG Electronics, Seoul, Republic of Korea
Jeongjin Lee, Department of Computer Science & Engineering, Soongsil University, Seoul, Republic of Korea
Kuen-tae Kim, Department of Korean History, Seoul National University, Seoul, Republic of Korea
Sora Kim, Department of Korean History, Seoul National University, Seoul, Republic of Korea
Minwoo Lee, Department of Korean History, Seoul National University, Seoul, Republic of Korea
Jinwook Seo, Department of Computer Science & Engineering, Seoul National University, Seoul, Republic of Korea
PROJECT DESCRIPTION
Pre-modern artifacts are often important research materials for humanities fields such as history, law, and art. Digitizing such artifacts can significantly increase the scale and extent of humanities research because computerized artifacts can be widely accessible and analyzed in a large scale with powerful computational methods. We have been collaborating with Korea historians to design and implement an interactive visualization tool for visualizing historical textual cadasters and connecting them to more recent hand-drawn geographical maps Our design will enable researchers in many history-related fields to gain better understanding of the meanings and implications of pre-modern textual cadasters. By linking them to more recent ones, historians can transform historical textual data to graphical map and will learn how they surveyed lands, understand their encoding shceme and trace the changes in land use/ownership. We also expect that our visualization tool will build further interdisciplinary collaborations: geology, anthropology, linguistics, and economic history. There are three main challenges in this project:
to generate a visual layout of land pieces from a textual cadasters,
to segment each land piece from a hand-drawn graphical map,
to design interactions to help users match the layout and the segmented map,
MATCHING PROCESS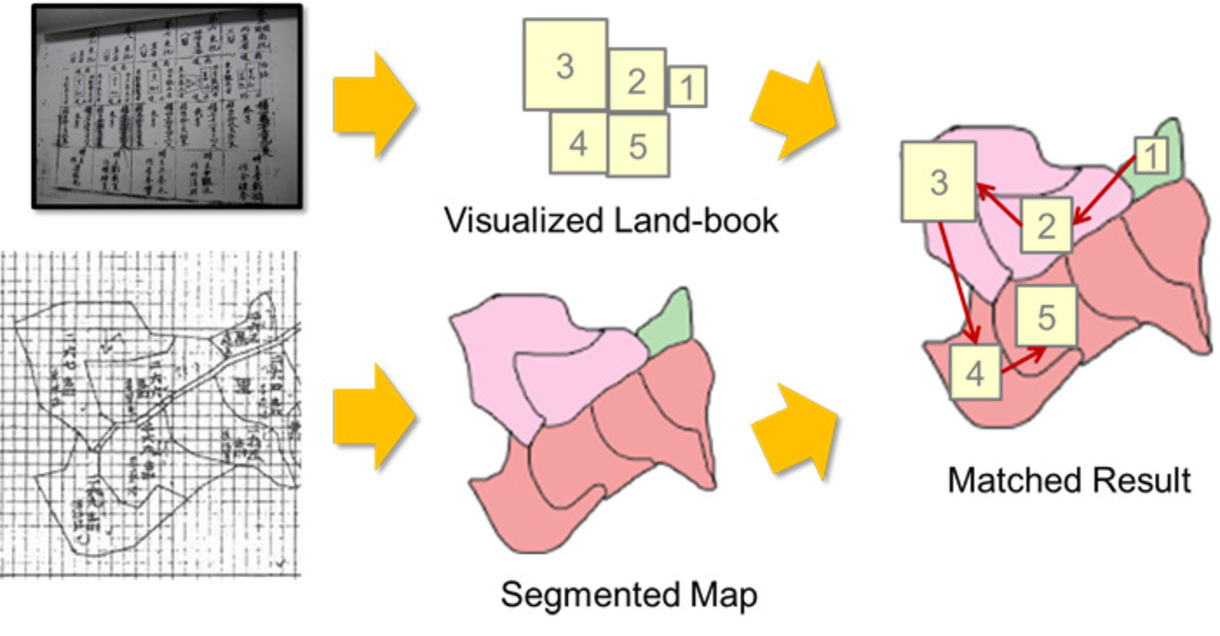 GRAPH LAYOUT ALGORITHM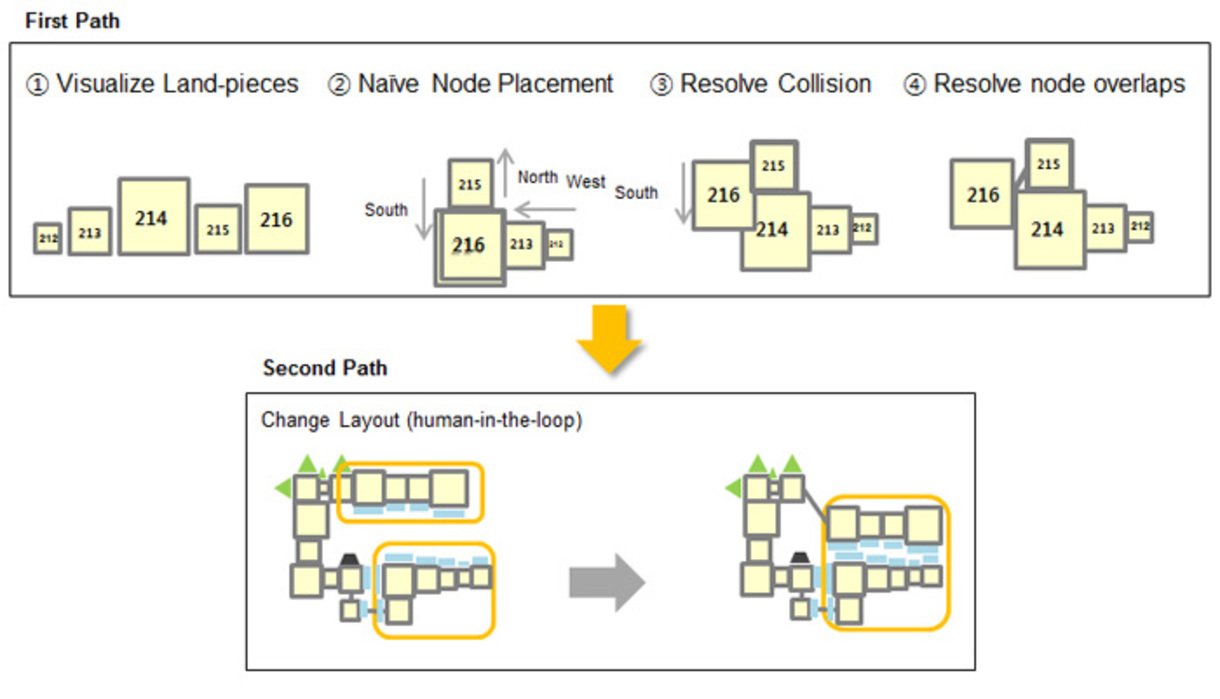 MAP SEGMENTATION ALGORITHM

DEMO
Availability
SUPPORT
This work was supported by Microsoft Research Asia and National IT Industry Promotion Agency.
Publications
Hyungmin Lee, Sooyun Lee, Namwook Kim, and Jinwook Seo, JigsawMap: Connecting the Past to the Future by Mapping Historical Textual Cadasters, SIGCHI Conference on Human Factors in Computing Systems (CHI '12)
Namwook Kim, Jeongjin Lee, Hyungmin Lee, and Jinwook Seo, Accurate Segmentation of Land Regions in Historical Cadastral Maps, [PDF], Journal of Visual Communication and Image Representation
Hyungmin Lee and Jinwook Seo, "노드 집약화를 통한 양안의 시각화 디자인 개선에 대한 연구", Telecommunication Review